Introduced on August 25, 2023, the evolved NAPS framework, termed NAPS-2, emphasises the paramount importance of apprenticeships in India. It reiterates the nation's commitment to sustainable employment combined with skill development.
Moreover, in a country renowned for its vast pool of human capital, there's always an urgency to channel this potential in the right direction. So, business leaders and executives are quite rightly wondering how the new regulations will impact their business.
In short, the National Apprenticeship Promotion Scheme 2 (NAPS-2) stands as a beacon in this mission. We will delve deeper into this topic, explaining the changes and benefits of the new guidelines, owing to our expertise in this field.
This blog discusses the transformative potential of NAPS-2, outlining how it can be a strategic tool for organisational growth. Hence, showcasing how it aligns with the aspirations of forward-thinking leaders and the broader objective of workforce development.
What is NAPS? A Brief History
The world is witnessing an unprecedented pace of technological advancements, leading to a dynamic shift in job requirements. As a result, the 'skills gap' has emerged as one of the most significant challenges for businesses worldwide.
To tackle this, the government introduced a central sector scheme called the National Apprenticeship Promotion Scheme (NAPS). As it was completely funded by the central government, NAPS ensured a consistent, uniform, and uninterrupted flow of resources across states and sectors.
During the past 7 years, it engaged over 13.38 lakh apprentices. Moreover, the number of apprentices jumped significantly from 2.90 lakh to 5.8 lakh from 2020-21 to 2021-22.
This shows that the number of appendices and establishments has increased drastically, leading to more employment generation and closing the skill gap.
What is the Importance of the Latest NAPS-2 Guidelines?
Apprenticeships, with their unique blend of theoretical knowledge and practical exposure, have always been the key to bridging this chasm. They prepare the youth for real-world challenges, ensuring that businesses have access to a workforce that is not only qualified but also industry-ready.
For HR professionals, business unit heads, and CEOs, understanding the intricacies of the latest NAPS guidelines is crucial. Not only does it offer an effective strategy for talent acquisition, but it also promises cost-effectiveness and a platform for continuous skill development.
Moreover, once businesses understand the guidelines of NAPS-2 they will be able to adapt their workforce strategies accordingly. This will help them grow the organisation by hiring the right apprentices.
What are the NAPS-2 Guidelines?
The National Apprenticeship Promotion Scheme has always been an emblem of India's commitment to empowering its youth through holistic skill development.
The second iteration, NAPS-2, brings with it several enhancements and refinements. This ensures that apprenticeships in India are not only more accessible but also aligned with the changing global economic landscape.
What are the Key Highlights of the NAPS-2 Guidelines?
Budget Allocation
A substantial budget of ₹1,942 crores has been earmarked for the scheme spanning four financial years – from FY 2022-23 to FY 2025-26. This sustained financial commitment ensures that NAPS-2 has the necessary resources to make a long-term impact.
Ambitious Enrollment Target:
NAPS-2 aims to enrol a staggering 46 lakh apprentices over its four-year tenure. This target underscores the program's mission to transform the apprenticeship landscape in India, offering unparalleled opportunities to the youth and businesses alike.
What are the Implications for CHROs and Business Unit Heads?
For CHROs and Business Unit Heads, the revamped NAPS-2 guidelines present a myriad of opportunities and considerations:
Talent Acquisition
With the ambitious target of 46 lakh apprentices, there's an abundant pool of skilled candidates available for recruitment. This alleviates talent scarcity issues and facilitates the hiring of industry-ready professionals.
Cost-Effective Skill Development
Under the old guidelines, the government paid 25% of the stipend allowance up to ₹1,500, with an additional training cost allowance of ₹7,500. The training cost allowance has been removed from the new scheme.
Governments will continue to pay 25% of the stipend directly transferred to the bank accounts of apprentices. The remaining 75% of the stipend will be paid by businesses.
Strategic Workforce Planning
The consistent funding and clear timeline provided by the NAPS guidelines allow for better long-term workforce planning. CHROs can strategize the integration of apprentices into full-time roles, ensuring continuity and sustainability.
Competitive Advantage
Embracing the NAPS-2 program can help companies prepare a skilled workforce for the future, which can position a company as an industry leader. This not only enhances the brand image but also attracts top talent, giving businesses an edge in the competitive market.
What are the Advantages of NAPS-2 for Empowering Businesses and Apprentices?
The National Apprenticeship Promotion Scheme (NAPS) has long stood as a beacon for skill development in India.
Its renewed avatar, NAPS-2, builds upon this legacy, further optimising the apprenticeship ecosystem for both businesses and apprentices. This initiative not only strengthens the workforce development strategy but also redefines how businesses can seamlessly integrate apprenticeships.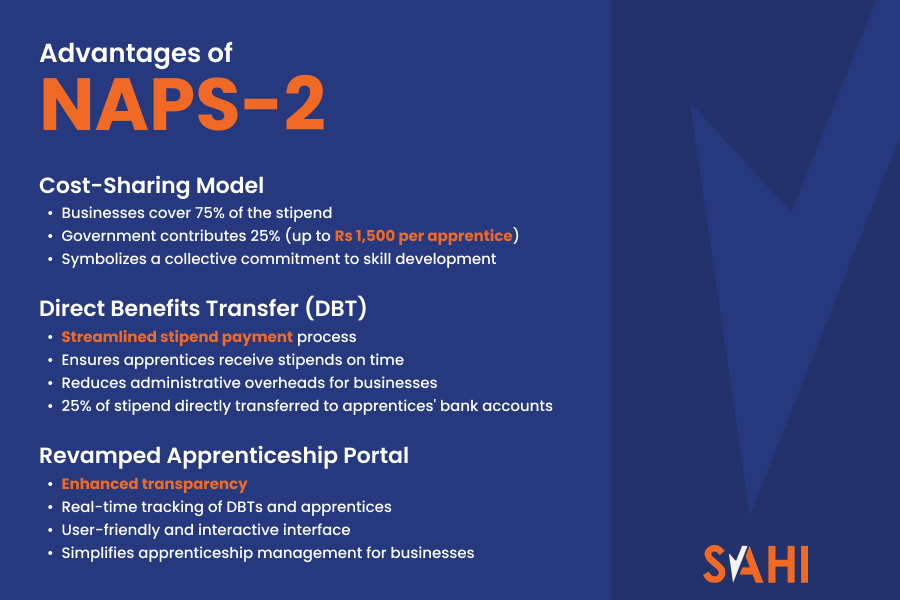 What are the Salient Advantages of NAPS-2?
Cost-Sharing Model
The financial burden of apprenticeships doesn't solely rest on businesses. While businesses cover 75% of the stipend, the government chips in with the remaining 25%, capping its contribution at Rs 1,500 per apprentice. This joint effort symbolises the collective commitment to skill development in India.
Direct Benefits Transfer (DBT)
Gone are the days of bureaucratic delays and cumbersome paperwork. NAPS-2 introduces a streamlined stipend payment process via Direct Benefits Transfer. This ensures apprentices receive their stipends on time, reducing administrative overheads for businesses.
In other words, 25% of the stipend will be directly transferred to the bank accounts of apprentices.
Revamped Apprenticeship Portal
A major thrust of NAPS-2 is the upgraded Apprenticeship Portal. Enhanced transparency, and real-time tracking of the DBTs and apprentices, with a more interactive interface make apprenticeship management a breeze for businesses.
What are the Benefits for Businesses and Apprentices?
For businesses, the introduction of DBT in the apprenticeship programs means reduced paperwork, less red tape, and a direct channel of communication with apprentices. The assurance of timely payments boosts the morale of apprentices, fostering a positive training environment.
The revamped Apprenticeship Portal is more than just a digital tool; it's a comprehensive platform where businesses can manage every detail of the apprenticeship process. From stipend disbursement to tracking the progress of apprentices, the portal covers it all. Furthermore, the cost-sharing model alleviates financial pressures, making it more feasible for businesses, regardless of their size, to participate actively in NAPS-2.
For apprentices, these changes translate to prompt payments, transparency in the apprenticeship process, and an assurance that their skill development is a shared vision between businesses and the government.
How to Streamline Apprenticeships for Future Growth?
The upgrades in NAPS-2 are not just procedural; they represent a strategic shift. By making apprenticeships more accessible and user-friendly, businesses can now view them not as mere statutory obligations but as strategic tools for growth.
The updated cost-sharing model, coupled with the skilled workforce development potential of apprenticeships, allows businesses to be more agile and ready for the challenges of tomorrow.
And with all these processes managed through the Apprenticeship Portal, transparency, and efficiency become the hallmark of every apprenticeship journey. In essence, NAPS-2, with its blend of innovation and strategy, empowers businesses and apprentices, crafting a brighter, more skilled future for India.
What Can NAPS-2 Do for Your Business's Growth and Workforce Strategy?
The National Apprenticeship Promotion Scheme (NAPS), with its new avatar, NAPS-2, has been redefined and refocused to serve as a strategic advantage for businesses.
But beyond its immediate benefits, how can CHROs, CEOs, and Business Unit Heads leverage NAPS-2 for sustained business growth and a robust workforce strategy?
Tailored Workforce Development with Apprenticeships
One of the cornerstones of a successful business strategy is having the right talent, skilled precisely for the tasks at hand.
Apprenticeship programs, especially under the NAPS-2 guidelines, provide businesses with the unique opportunity to mould and mentor talent exactly as per their requirements. Instead of investing resources in extensive retraining of new recruits, businesses can tap into a pool of apprentices trained specifically for their operational needs.
This approach significantly reduces the learning curve and ensures that the skilled workforce seamlessly integrates into the business processes.
Cost-Effective Skill Development and Talent Acquisition
NAPS-2 isn't just about fostering skill development in India; it's also about doing it cost-effectively.
The cost-sharing model, where the government pitches in up to 25% of the stipend, greatly reduces the financial burden on businesses. This is particularly advantageous for small to medium-sized businesses, where budget constraints might have previously deterred them from engaging in expansive apprenticeship programs.
Moreover, apprenticeships can serve as a talent acquisition strategy. By nurturing apprentices, businesses can evaluate their potential, work ethic, and cultural fit.
This means, that post-apprenticeship, businesses can offer roles to individuals they are already familiar with, significantly reducing hiring risks and costs associated with bad hires.
Strategic Alignment with Business Goals
By aligning with NAPS-2, businesses are not only committing to skill development but also positioning themselves as forward-thinking entities keen on building a sustainable future.
For businesses, this can be a part of their Corporate Social Responsibility (CSR) initiatives, showcasing their commitment to workforce development and community upliftment. This not only boosts their brand reputation but also attracts quality talent, partners, and investors who value such commitments.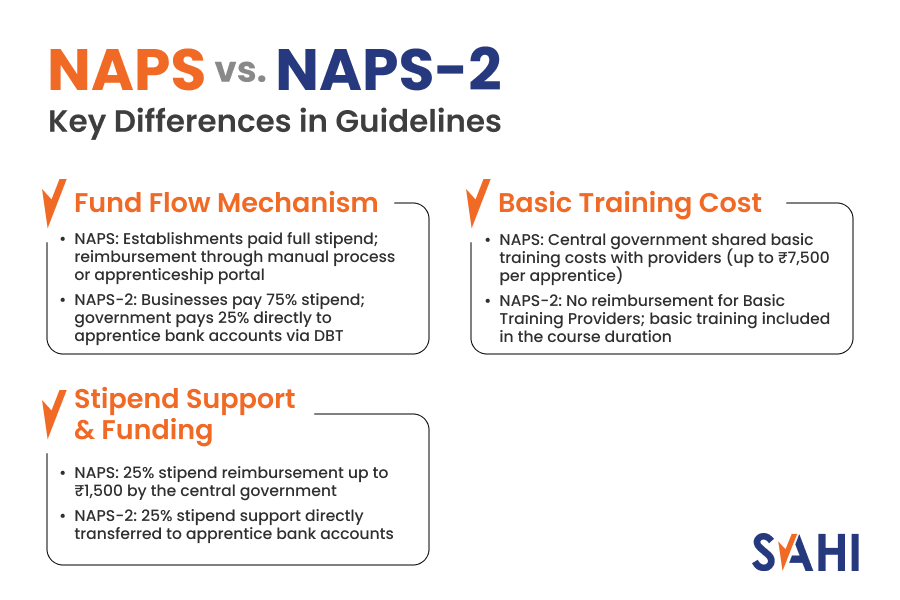 NAPS vs. NAPS-2 – Key Differences
Stipend Support & Funding
NAPS supported reimbursement of 25% of the prescribed stipend up to ₹1,500 per month by the central government. NAPS-2 also guarantees partial stipend support of 25% by the central government up to ₹1,500 with the only difference being this money is directly transferred to the bank accounts of apprentices.
Moreover, funding support was available to government departments and PSUs under the old NAPS. But in NAPS-2 there is no such funding support.
So, what does this mean?
Less government funding can encourage more funding for private sector participation. This can lead to better opportunities for apprentices, which can, in turn, spur innovation and efficiency.
Basic Training Cost
The central government used to share the basic training cost with Basic Training Providers (BTP) up to ₹7,500 per apprentice under NAPS. However, in NAPS-2 there will be no reimbursement for BTPs as the basic training is included in the total course duration of apprenticeship training.
Fund Flow Mechanism
In NAPS, establishments had to pay the full stipend as per their contract. Among them, establishments that came under the Regional Directorate of Skill Development & Entrepreneurship (RSDE) and States, received reimbursements for the stipends from the central government through a manual process.
Only for establishments under Joint Apprenticeship Advisors (JAA), was the stipend reimbursed through the apprenticeship portal.
Under NAPS-2, businesses are required to pay 75% of the stipend to apprentices while the Government pays the remaining 25% of the stipend, up to ₹1,500. This partial stipend is directly transferred to the bank accounts of apprentices through DBT via PFMS.
Age Limit
NAPS-2 has increased the upper age limit for apprentices to 35 years at the time of registering on the portal. But for businesses that choose to opt out of the partial stipend support offered by NAPS-2, the upper age limit for apprentices will be the same as specified in the Apprentices Act, 1961, which is 21.
In other words, it will be the same as NAPS, i.e. 21.
Implications for Businesses
The financial aspects become more favourable with NAPS-2.
With the Central Government bearing the brunt of the costs, businesses can anticipate stable and predictable financial support. Additionally, with a clear budget allocation and ambitious enrollment targets, the accessibility and scope of the program have grown.
As a result, it is easier for businesses to tap into a larger pool of skilled apprentices and enjoy the benefits of a streamlined and enhanced apprenticeship program.
What can be the CEO's vision?
The National Apprenticeship Promotion Scheme-2 (NAPS-2) is not just another policy; it's a bridge to the future you envision.
As architects of business growth, innovation, and sustainability, aligning with NAPS-2 is strategically imperative. Apprenticeships, as nurtured by this enhanced scheme, are primed to fuel your talent pipelines.
This ensures a steady flow of skilled professionals attuned to your organisation's ethos and objectives. Dive deep into the realm of apprenticeship in India and leverage it as a cornerstone of talent acquisition and development.
Remember, the apprentices of today will be the linchpins of tomorrow's organisational success.
What is the CHRO's role?
As stewards of human capital, CHROs have a pivotal role in weaving the benefits of the National Apprenticeship Promotion Scheme-2 (NAPS-2) into the fabric of your organisation.
Implementing NAPS-2 isn't just a process—it's a commitment to the future. By investing in apprenticeship programs, you're strategically positioning your organisation to harness fresh talent, brimming with potential.
Moreover, this serves as a dual advantage: not only are you fostering skill development but ensuring talent retention in the long run. Recognize the potential of apprenticeships in India, and lead your organisation into a future of empowered and loyal professionals.
Conclusion
In the evolving landscape of India's workforce development, the National Apprenticeship Promotion Scheme-2 (NAPS-2) stands out as a beacon of transformative change.
With streamlined guidelines and an enhanced Apprenticeship Portal, NAPS-2 promises unparalleled advantages for businesses, HR professionals, and visionary CEOs. It's not just about fostering skill development; it's about strategically aligning with the future.
As CHROs, Business Unit Heads, and CEOs, the onus is on you to tap into this reservoir of potential. But you're not alone because SAHI is here to help.
With 14 years of experience in hiring across multiple sectors and job roles, it helps you embrace the opportunity and access the biggest network of skilled workers. As a pioneer in the field of hiring blue-collar workers, SAHI elevates your organisation's growth trajectory and makes a lasting contribution to India's workforce development.
Choose SAHI and let NAPS-2 be your guiding light. Reach out today!
Frequently Asked Questions
What is the significance of NAPS-2 for businesses and organisations?
NAPS-2 empowers businesses with targeted skill development, enhancing workforce capabilities and bridging skill gaps essential for organisational growth.
How is NAPS-2 funded, and what is the budget allocation for the program?
NAPS-2 is 100% funded by the Central Government, and a budget of ₹1,942 crores has been fixed for 4 years from FY 2022-23 to FY 2025-26.
What is the target enrollment for apprentices under NAPS-2, and why is it important?
NAPS-2 aims to enrol 46 lakh apprentices over four years, fostering a skilled workforce that addresses employment challenges and boosts economic growth.
What are the key features of the Direct Benefits Transfer (DBT) system in NAPS-2?
DBT in NAPS-2 simplifies stipend disbursements, ensuring timely payments with reduced administrative hassles, benefiting both businesses and apprentices. 25% of the stipend will be directly paid by the central government to the bank accounts of apprentices.
How can businesses manage apprenticeship details through the Apprenticeship Portal?
The Apprenticeship Portal offers an interactive interface for businesses to manage, track, and streamline apprenticeship details, enhancing transparency and efficiency. The DBT can also be tracked on the portal.
How does NAPS-2 contribute to the Skill India Programme's objectives?
NAPS-2 reinforces the Skill India Programme's vision, promoting skill development and creating expansive employment opportunities in India.